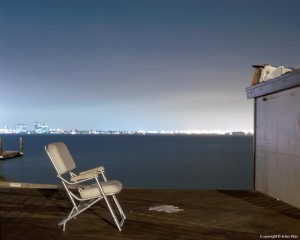 I'm pleased to announce that some of my images are now being represented by the Joyce Gordon Gallery in Oakland. As you may recall, Large Boat Winch was awarded a Juror Award in the "Glimpses in Time" exhibit at the Joyce Gordon Gallery in August.
Now I have five new 16″×20″ matted prints there for your perusal: Bench and Poles, Burned-Out Building, Drinking Fountain, Padded Chair, and Shiny Door. The latter four images have never been printed this large, so go have a look at them and also enjoy the Frank Espada show currently on display. Your comments are welcome and encouraged.
The Joyce Gordon Gallery is at 406 14th St., Oakland, CA 94612. Exit the 12th St. BART station at 14th St.; the gallery is just a few doors down, near Franklin St.