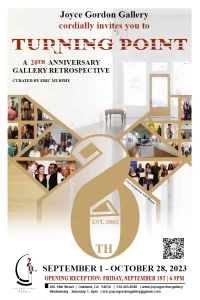 The Joyce Gordon Gallery is marking its 20th anniversary! Keeping a gallery going for 20 years is quite a feat. To celebrate the occasion, please join me and other art lovers at the opening reception for the new exhibit "Turning Point: Joyce Gordon Gallery 20th Anniversary Retrospective." The show runs through October 28, and many works will have memories by the artists of Joyce and the gallery. There will even be video messages from artists.
Two of my images have been juried into the exhibit. They are 30″×38″ prints large enough to have real impact.
Also, Joyce is retiring as gallery director, passing on that role to 10-year gallery curator Eric Murphy. I've known Eric for years, and he will do a fine job as director. I'm excited to see what he cooks up.
"Turning Point" Reception
When: Friday, September 1, 6-9 p.m.
Where: 406 14th St., Oakland, CA 94612 (near 12th St. BART)
What: Fun! Food and wine will be served, and I'll be there.
Cost: Free
RSVP: RSVP here (optional)
Be sure to bring your art-loving coworkers, family, and friends. I hope to see you there.