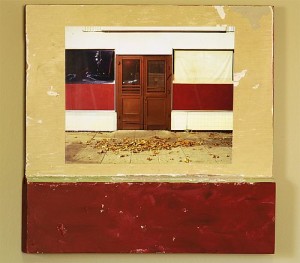 Several weeks ago, as I was leaving Pro Arts Gallery, I encountered a volunteer outside. He strongly encouraged me to take one of the hunks of household doors he was giving out. Pro Arts' annual Box Art Benefit Auction was coming up and this year's challenge for participating artists was to turn a piece of door into a piece of art to help raise needed funds for Pro Arts. Reluctantly, I selected a door chunk, not knowing what I was going to do with it. Using photography as my primary medium, I hadn't had the need for wooden substrates. Over the coming weeks, I came up with and rejected several ideas. I eventually figured out what I wanted to do, and my first mixed media piece, Door on Door, was born.
It, and over 100 others, will be up for auction this Saturday evening, 6–9 p.m. There will be hors d'oeuvres by Greenleaf Platters, beer, cocktails, music, portraits, silent and live auctions, and a new auctioneer this year. Also, sponsorships are available in advance of the event for $100. If you sponsor an artist, you'll receive reserved privileges at the event. All the money goes to Pro Arts.
I had the opportunity to see some of the other pieces and I'm amazed at what some of the artists were able to come up with. I'm excited to see what happens at the auction! So come say hello, have a snack, and place your bid.
Update: Pro Arts' director bought this piece.