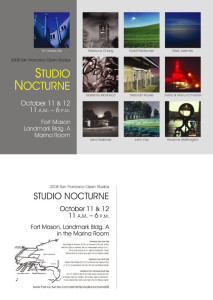 I'm again pleased to be included in this year's Studio Nocturne, an exhibition of work by 10 night photographers that's part of San Francisco Open Studios this weekend. I'll be showing some new work as well as old favorites.
Click the postcard image for details. Also, you can read bios of all the artists, get links to their websites, see example images, and get more details of the event at the Studio Nocturne 2008 page on the Nocturnes website.
Come to Building "A" at Fort Mason Center in San Francisco, where dozens of other artists also will be exhibiting. Hours are 11 a.m.–6 p.m. It's always a fun show with lots to see, so come on out and say hello!